A Bouquet of Thank Yous from Manners in Motion Graduates and Parents
Overheard from the backseat coming home from our program:
"Ms. Glinka sure knows how to put the 'MAN' in manners!"
6th grade boy
Even in the age of email, thank you notes still matter.
Our Manners in Motion students learn the importance of sending thoughtful, handwritten notes. Here's the best one yet!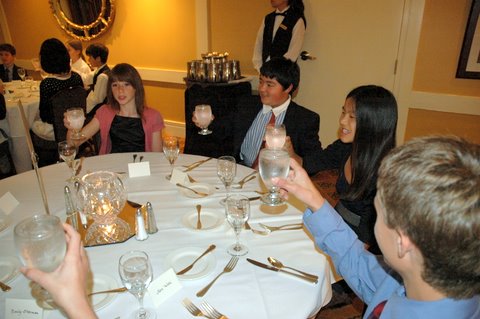 Making a Toast
Lafayette Park Hotel Etiquette Evening
More comments...
Alex - age 13
"Thank you so much for this great experience. I am so glad I can actually dance properly. I benefited so much from this class. My parents say I have majorly improved at the dinner table."
---
Lali - age 11

"Manners in Motion was so very fun! It was nothing like I expected. It was better. You both are great teachers. I could barely dance beforehand. My favorite night was probably the Etiquette Evening. The food was incredible and I remembered (and used) many of my skills on Thanksgiving. Thank you."
---
James - Age 12
"Thank you for teaching us how to dance. It was fun to teach the adults and I enjoyed dancing with my mother and having a good time."

---
Nick - Age 13

"I had a lot of fun and can hardly wait for next year. My favorite dance was the Glinka Glide. I even danced with my mom."
---
Mom - Michele
"I wanted to let you know how much fun my son had at Manners in Motion. So much fun that he has asked to enroll again in January! You both had such a positive and fun message for doing things most middle schoolers don't enjoy, like dressing up and being polite. Camden enjoyed every part of the lessons, and has told several of his school friends to join."